"I am excited for you to have clarity now and for the future!"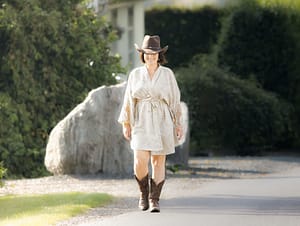 Meet Aliana, a medium, animal medium, and author, currently residing in the picturesque Danish countryside alongside her husband, daughter, horses, and feline companions. Her journey is a testament to the power of transformation and spiritual awakening.
Aliana emerged from a place of emotional and spiritual darkness, seeking answers to her mental and physical well-being. As a child, she possessed a unique gift, encountering spirits and experiences that few could comprehend. Yet, fearing judgment, she kept her extraordinary experiences to herself, a silent witness to the world's complexities.
Growing up, Aliana nurtured a deep-seated dream of traveling to the United States, a desire she later pursued. She hailed from a close-knit village, where gossip and judgment were commonplace. The weight of societal scrutiny compelled her to conceal her spiritual encounters.
In her book, "22 Letters from Uncle Jack – How One Spirit Helped me to Reveal my inner Knowing," Aliana recounts a pivotal moment in her life. Three spirits approached her as a child, leaving her feeling attacked and triggering the onset of voices that would accompany her.
At the age of 21, Aliana found the love of her life, and their journey together transformed her health and well-being. Today, she embraces a daily healing path, living her best life, and thriving. Her book was published in June 2022, inspiring readers with a powerful message of self-discovery through spirituality, alignment, and the recognition of spirit guides.
Aliana's mission is clear: to guide people worldwide towards clarity and inner knowing, bringing them back to a place of peace within themselves. She empowers individuals to create their dream lives by tapping into the wisdom of their spirit guides. Her passion for mediumship drives her, and she's continuously working on exciting projects that await you.
You can join Aliana on her daily adventures via Instagram, where she shares glimpses of her life.
Discover the transformative power of connecting with your inner knowing and spirit guides with Aliana, your trusted guide on the journey to self-discovery and spiritual enlightenment.
Life as an animal medium is undeniably rewarding, and Aliana thrives on being the voice for all creatures, both here and in the afterlife. On her Instagram, you'll find her sharing her world with her beloved horses and cats, offering a glimpse into the extraordinary connections she forms with these magnificent beings.
You might have caught Aliana on Maria Menounos's "HealSquad" show, where she had a heartwarming conversation with Maria's dogs, or perhaps witnessed her live with Gabby Bernstein, communing with her feline friend. Aliana also joined Michelle Fern on "Cattitude," delving deep into the world of animal mediumship, engaging in enlightening conversations with Michelle's own feline companions.
Her online animal reading sessions are nothing short of revelatory, whether she's connecting with living animals or those who've crossed over. Aliana's calendar is open for readings, both for people and their animal companions, so don't hesitate to reach out.
Aliana is also open to collaboration, so if you have a project in mind, don't hesitate to send her a direct message on Instagram, where she's always ready to connect.
Exciting new projects in the realm of mediumship are on the horizon, and you can already find her book on Amazon. Aliana finds immense joy in a life intertwined with spirits and possesses an insatiable passion for revealing the predictions of now and the future through her gift. She's dedicated to providing answers to every question, guided by the wisdom of the spirit world.
Prepare to be amazed as you embark on a journey of discovery with Aliana, where the extraordinary becomes ordinary, and the mystical becomes your reality. Book a reading or immerse yourself in her book; your life will never be the same.
"Aliana is such a direct channel and sees more then you think. In the reading she surprised me with things she knew were going on with my mind, body and sprit."